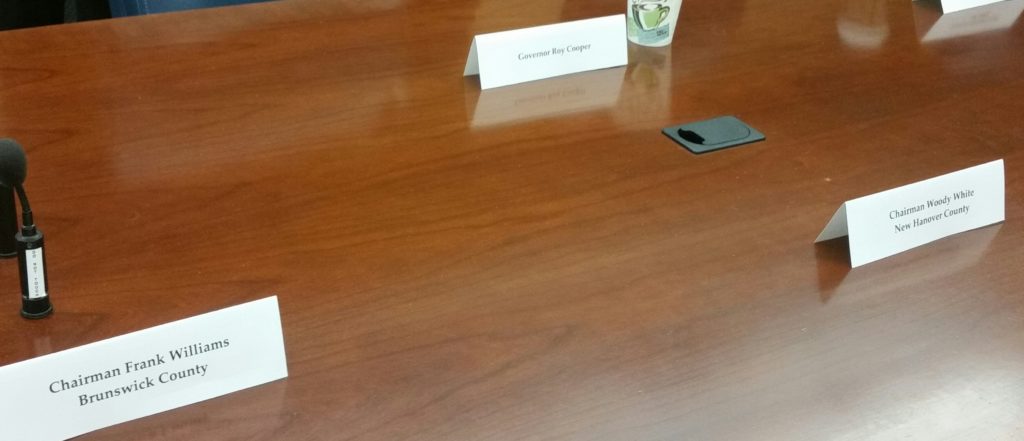 BOLIVIA, NC – Frank Williams, Chairman of the Brunswick County Board of Commissioners, released the following statement following this morning's meeting with Governor Roy Cooper:
"This morning, I joined a bipartisan group of State Legislators and leaders from neighboring counties in a productive meeting with Governor Cooper. I am encouraged by the commitment of the Governor, the Department of Environmental Quality and the Division of Health and Human Services to assessing—and remedying—issues related to our water supply. I am particularly appreciative of the Governor's insistence that state employees treat the GenX issue as if their own families are drinking the affected water every day. This is the type of leadership we have been looking to the State for, and I am glad that Governor Cooper has heeded our call. While there is still a lot of work to do, I was encouraged by what I heard this morning. Brunswick County remains committed to working with our Local, State and Federal partners on behalf of our citizens."
Brunswick County Manager Ann Hardy and Executive Director of Health & Human Services David Stanley joined Chairman Williams at the meeting.
Click here to view the Water Quality Action Items handout distributed by Governor Cooper's staff during the meeting (PDF file).
A number of local, state and federal leaders attended the meeting, including:
Woody White, Chairman, New Hanover County Board of Commissioners

George Brown, Chairman, Pender County Board of Commissioners

Mayor Bill Saffo, City of Wilmington

Chairman Mike Brown, Cape Fear Public Utility Authority

Congressman David Rouzer (attended the start of the meeting)

Senator Michael Lee

Representative Ted Davis

Representative Holly Grange

Representative Deb Butler

Dr. Mandy Cohen, Secretary, N.C. Department of Health & Human Services

Michael Regan, Secretary, N.C. Department of Environmental Quality

Susi Hamilton, Secretary, N.C. Department of Natural & Cultural Resources

Mark Benton, Deputy Secretary, N.C. Department of Health & Human Services
Brunswick County residents are encouraged to visit http://www.brunswickcountync.gov/genx/ for the most up-to-date information.